JW Player is an open source framework for embedding videos on websites. It integrates support for Flash and HTML5 videos so that you can stream videos on different platforms. Although online upload speed has improved, you may still want to watch or collect your favorite JW Player videos offline.
"Some quite distinctive or entertaining JW Player videos are embedded in the web pages and I am considering including or downloading them. Is that possible?"
Unlike YouTube video download, the ways to download videos from JW Player are a bit complicated and the tools are also limited. But don't despair, we'll introduce a number of effective methods for almost all JWPlayer video downloads you'll encounter while browsing the web.
How to Download JW Player Videos from "Inspect" or "Inspect Element"?
The steps to download JWPlayer videos on Chrome, Safari and Firefox are almost the same. Below we show the screenshot in Chrome.
Open a web page that contains a JW Player video.
Right-click anywhere and choose the "Inspect" (Chrome) or "Inspect Element" (Safari, Firefox) option.
Go to the "Network" tab.
Refresh the page. (important step)
In the search box, type the keyword – mp4
Right-click the file link that appears and choose "Open in a new tab." The JWPlayer video will be downloaded immediately.
In the past, it was convenient to download videos from JW Player in this way. However, when JW Player was updated to v8.20 or later, the following issues occurred:
JWPlayer videos cannot be saved in MP4 format, only in TS or M3U8 format (short video segments).
Unable to download full video. I tried to download a 29 second JW Player video. In the end, only the first 4 seconds of the video were downloaded successfully.
So before you download JW Player, please right click on the video and check which version is working.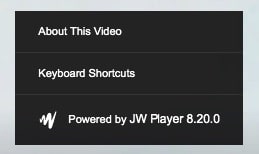 How to Download JW Player Videos from Page Info?
If you are used to using Firefox, don't worry, there are also two ways to download videos from JW player easily.
Solution 1
The first way is quite easy to use. You just need to open the video you want to download and click the "Open Application Menu" button on the top right corner, then click "Save Page As" to edit the name and save destination in the new window. After setting up, just click "Save" and it will start downloading the video to your device.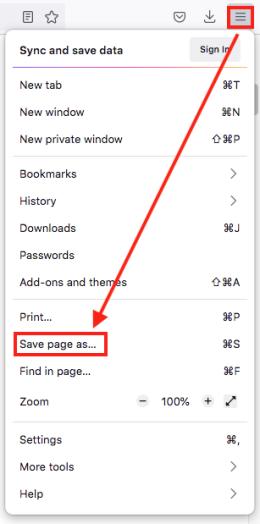 Solution 2
If the former has no effect, you can also use Page Information to download the desired videos in Firefox.
Click to open the video you need.
Move your mouse to the top position where the URL is. Click the "lock" icon, then click "Secure Connection" > "More Info" in the drop down box.
Now you will see a new window and click on the "Media" button.
Roll your mouse scroll wheel to browse and locate the video file. Then click the "Save As" button. You will see a small window where you can edit the output file name and location. When you're done, click the blue "Save" button to start the download.
How to Download Video from JW Player with URL?
The first step to download JW Player videos via apps or online tools is to get the URL. Common media videos from YouTube, Facebook, Twitter, etc. they can easily get the url (right click to copy url or grab url from address bar), but the video from JW Player can't.
Steps to get JW video URL (take Chrome as an example):
Navigate to the web page where the desired JW Player video is displayed.
Right-click and choose "Inspect".
Press "Ctrl+R" to reload the page.
In "Network", enter the word – mp4 to search for video. If no file appears, update again.
Right-click the link and select "Copy" > "Copy Link Address"
Then you can use the applications to download from JWPlayer.
JW Player Video Downloader (Windows, Mac)
Pros:
Run multiple download tasks
Provide a profile option to set the format
Change the user interface languages to French, Italian, Turkish, etc.
Cons:
Takes up a lot of computer memory
The conversion is a bit slow.
Speaking of aTube Catcher, it is a top-notch program that downloads videos from a huge list of video sharing sites, including JW Player videos. Like Cisdem Video Converter, videos downloaded from JW Player can be converted to other formats.
It has a built-in screen recorder that allows you to record what happens on the screen with a wet finger. There is also a built-in burning option, which allows you to burn downloaded videos to CDs, DVDs, and Blu-ray discs.
Download aTube Catcher setup and install it on Windows.
Copy the link of an embedded video from JW Player.
Go to aTube Catcher, it should automatically paste the URL of the video.
Select the output format and click the "Download" button to start downloading videos from JW Player on Windows.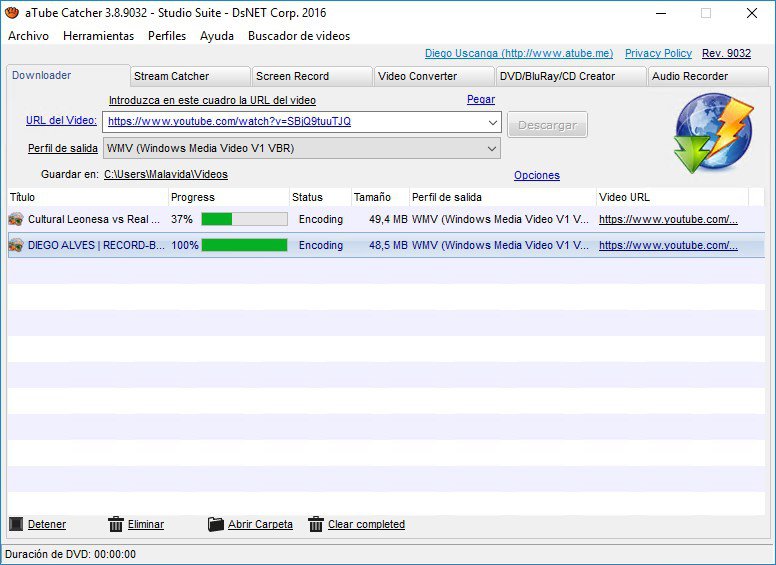 JWPlayer Video Downloaders (Online)
If you are interested, please know JW Player online downloader. They can also download videos using URLs, but they are not as useful as professional applications.
Pros:
Support for SD, HD and even Ultra HD 4K resolution (Catchvideo.net).
Supports video downloads from a wide variety of websites
No additional software or registration required
Cons:
The download speed is too slow.
Can't optimize videos for mobile devices
May display ads that contain viruses
Catchvideo.net is a strong web-based tool that can download videos from JW Player, YouTube, Facebook, DailyMotion, etc. You can save your JWPlayer videos as MP4, WebM (video only), WebM (audio only), or M4A. The target resolutions for videos are from 320×180 to 1920×1080, just choose the most suitable one.
Open the website https://catchvideo.net/.
Paste the JWPlayer video link into the search box.
Click "Catch!".
Right click on the green "Download" button and choose "Save Link As".
Name and save the JW Player video.
More Alternatives:
1 Qdownloader.net
Qdownloader.net, a rising star of online video downloading, can detect the link you paste on the site in seconds. It allows you to download videos from Instagram, YouTube or other similar platforms. When you start to download JW Player videos online, you just need to paste the JW Player video link, no personal information or registration required.
2 Ddownr.com
Ddownr.com is a handy online JW Player downloader that also allows you to grab videos from YouTube, TikTok, VK, Reddit, etc. Just put the copied link of a video in the search box and click the "Download" button. This JWPlayer downloader can download 4K videos, but copyrighted material or music will be blocked.
3 Saveclipbro.com (Update: Not Available)
SaveclipBro.com is an online video download and conversion solution. It helps you download videos from streaming sites, network sites, and media libraries. Also, you can convert your downloaded JW Player videos to 20 formats including MP4, 3GP, AVI, WMV, M4A and more. There is an advanced option that allows you to edit the video parameters (flip, rotate, audio bitrate, etc.).
How to Download Video from JWPlayer Via Chrome and Firefox?
The extensions in Safari are not as many as in Chrome and Firefox. So far we have not found any plugin that can download Flash videos in Safari.
How to Download JW Player Videos on Chrome?
Flash Video Downloader Chrome
Pros:
Download popular media files such as video, audio, and flash
Supports downloading MP4, MOV, WebM, Fly, etc. videos.
Automatically retrieve the URL of a video from JW Player
Cons:
Instead, always download a 0MB video
Sound and video glitches occur frequently
It doesn't work and sometimes it just fails
Videos downloaded from JWPlayer can only be in WebM format
The download speed is too slow.
Add Flash Video Downloader to Chrome
Play a JW Player video that you want to download on the web page.
Chrome JWPlayer video downloader displays a list of all captured videos.
Click the down arrow to download JW Player videos in Chrome.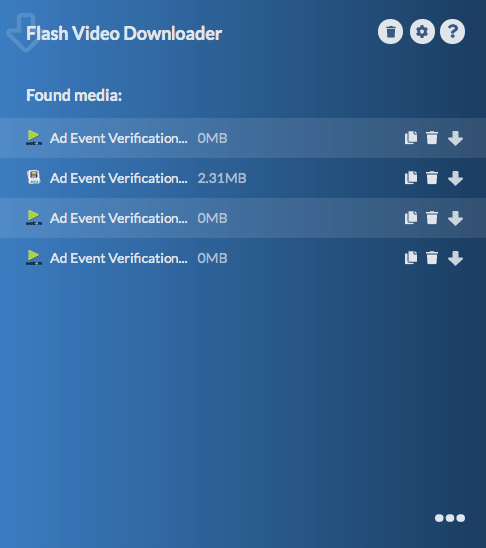 How to Download JW Player Videos on Firefox?
Flash Video Downloader Firefox
Pros:
Download videos from Dailymotion, Instagram, YouTube, VK, etc.
Watch videos before downloading
Have an intuitive and easy-to-use interface
Cons:
freeze browser
The quality of the downloaded videos is not good.
Unable to download HD videos JW Player
Install Flash Video Downloader in Firefox.
Play an embedded JW Player video in the Firefox browser.
Start downloading videos from JW Player in Firefox.
How to Download Video from JW Player Via IDM?
Pros:
Can download protected videos from JW Player
fast download speed
Offers different skins to make the interface wonderful
Cons:
not completely free
windows only
IDM is short for Internet Download Manage, which is a reliable tool to download videos from JW Player quickly with the built-in download engine. Unlike other JW Player downloaders, it is designed with a schedule feature that allows you to download the videos within a specified time and then automatically shut down your computer after finishing. This tool must be added to a browser to work, which is available in almost all popular browsers. However, it must be uploaded after 30 days.
The IDM installation procedures on each browser are similar, let's take Chrome as an example.
Download and install IDM from the official website on your computer.
Open Google Chrome on your computer and click on the three dots in the upper right corner.
Click "More tools" > "Extensions".
In the new extension window, find the "IDM Integration Module" extension and simply click the icon in the lower right corner to activate it.
Go to the JW Player site and choose the video you want to download.
Then you will see "Download this video" button on the top right corner of the video, please click to download this video.
Later, a new window appears where you can edit the output path, category and more detailed information of the downloaded video.
Once done, click the "Start Download" button to download the videos to your computer.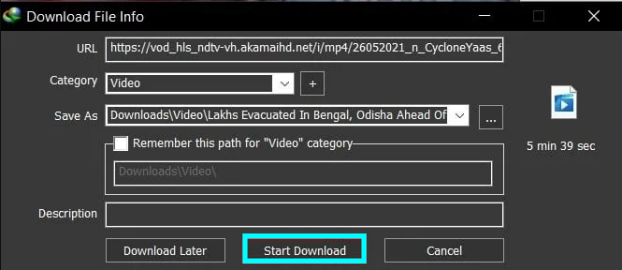 How to Download HLS Streams from JW Player?
However, if you still can't download the videos from JW player. Most likely, the video you want to download uses HTTP Live Streaming (HLS Streaming).
HLS Streaming is developed by Apple. It uses the video streaming communication protocol to encrypt content for secure transmission. It is widely used on mobile devices, media streaming platforms, and web browsers, etc.
A video using HLS streaming applies an AES-128 algorithm to encrypt the content. The NSA reportedly uses AES-128 encryption to crack the most classified information. Furthermore, it is the only algorithm that can reach the public.
Therefore, HLS Streaming makes it very difficult for us to obtain the video. In this case, we'd better use a screen recorder to record JW Player's HLS streams.
Why Need to Install All-in-one JWPlayer Video Downloader Software?
Now that you can download JW player videos directly from Watch (Item) or extensions, why install additional JWPlayer Video Downloader software? Isn't that superfluous? Of course not! These two methods can only meet the needs of a small number of users. You also need JW Player Video Downloader software for the following reasons:
Mobile phone users cannot download JW Player videos from "Element" or use a browser extension.
Flash videos download to MP4, TS, M3U8, WebM (HTML5 video), which may not be supported by your video player.
With an excellent JWPlayer video downloader, you can easily convert JW Player videos to other formats for playing on mobile phones, iMovie, iPad, etc.
When you download videos from JW Player on the Internet, there are no editing options.
With professional JW Player downloader, you can download many high-resolution JW videos at the fastest speed without reducing video quality. Also, you can download multiple videos from JWPlayer at the same time, saving your time and effort.
Conclusion
You can see that downloading videos from JW Player is not that difficult. For general users, you can save JW Player web videos directly with the link address. For special or advanced users, an all-in-one video downloader is necessary. As for downloading videos from JW Player on Android and iPhone, you can complete the task with the help of HTML5 and Flash video downloaders, such as vGet, Myvid Video Downloader, etc.